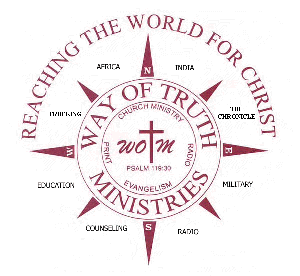 THE SISTER MINISTRY OF THE
FAITH BAPTIST CHURCH
THE WAY OF TRUTH MINISTRIES
"REACHING THE WORLD FOR CHRIST"
The sister ministry of The Faith Baptist Church of Altoona is The Way of Truth Ministries.
Dr. Gary G. Dull founded the Way of Truth Ministries in 1989 in the fulfilling of his vision
to have a worldwide radio ministry. From that point in time, God has been very faithful in developing and expanding WOTM in many areas. WOTM is accountable to The Faith
Baptist Church of Altoona and at all times a deacon of FBC will be sitting on the WOTM
Board of Directors. WOTM ministries include the following:
The production of radio broadcasts, which are heard worldwide on am, fm,

short wave, and Internet ministries.

The Way of Truth Baptist Mission, which has missionaries in United States, Africa and India.

The Military ministries which endeavors to reach the military of the world with the Gospel of Jesus Christ.

The High Way Ministries which endeavors to reach those in the trucking industry through providing chaplains at truck stops.

The WAY OF TRUTH CHRONICLE, a quarterly discipleship paper sent out around the world free.

The Institute of Biblical Learning, which offers module courses endeavoring to teach Christians to develop a Biblical World View.

The Altoona Christian Counseling Center which provides biblical counseling for those in spiritual and emotional need.

The local church ministry, which endeavors to conduct mission and Bible conferences as well as pulpit supply and ministry consultation when requested.
For further information on The Way of Truth Ministries, please go to www.wotbm.org