Let us share with you one of the showers of blessing that our Great God has bestowed upon us here
at Faith Baptist Church of Altoona.
Our old bus died earlier this year and had to be put out of it's misery. As we prayed for God's direction and blessings, we were able to lease a bus from a local company for our AWANAs -Wed. prayer service and our Sunday morning and evening services.
We prayed diligently that God would provide a bus for us, and through the process, found a bus for $14,000.00 from the same company we leased the other bus from, which was 11 years old, had 96,000 miles on it, new brakes and tires and was in fantastic shape.
At a Wed. evening prayer service, one person challenged the rest of us to match their $100.00 toward the bus, and that just snowballed into the amount that we raised in a short period of time. We were able to raise over $4,300.00 towards this bus by being obedient to God and giving toward such a worthy cause; reaching Altoona for Christ.
The challenge went out again on another Wed. evening prayer service to give as God lead us to and to get this bus paid in full after taking a step of faith, once again we saw the hand of God working in our presence as we not only were able to pay the bus off, but had a surplus to ready the bus for God's glory, raising over $5,000.00 adding to the $4,300.00 and several other donations, we raised over $10,000.00 total.
The company we purchased the bus from was kind enough to take what we paid to lease a bus and subtract it from the purchase price of our new bus, and also give us a great deal too, with the purchse price of $10,000.00 ! may God bless them as He has us.
We now have our new bus in His service to reach Altoona for Christ !
Praise God from whom all blessings flow !!
Jer. 33:3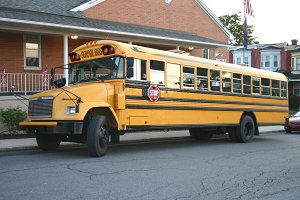 Our "Yellow Miracle"